Royal London Hospital – knowledge hub
Recent Project completed by TIMES CONSTRUCTION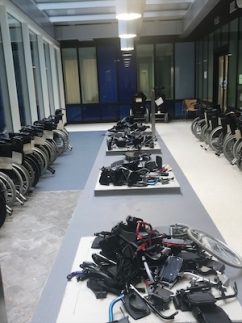 So the existing 'Therapy Garden'
has been designed as a space to try out wheelchairs.  It feels like a semi-external space and sits within a large atrium.  It is glazed on all four sides – though on three sides the majority of the glazing is obscured.  One side overlooks the Radiology waiting area below at the first floor level and the other 3 sides form boundaries with the main circulation corridor and adjacent clinical rooms.
The proposed scope of works was to create a raised floor with the ramp up from the door to the corridor – the other door to the adjoining therapy room was blocked off, with carpet tiles and floor boxes for the power data cables.
The works also comprised of installing all the power and data points within the floor boxes, the cable trays and the electrical cabling.  We Replaced the existing lighting with new fittings and replaced the two fan coil units with four new ones.
The draining from the planters was capped off and the existing sink and associated drainage and water services were removed.
This meant we partnered and worked with Skanska Connect for the data cabling, Compco for the sprinkler system and Optyma for the adaption of the existing access system.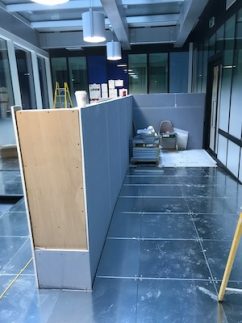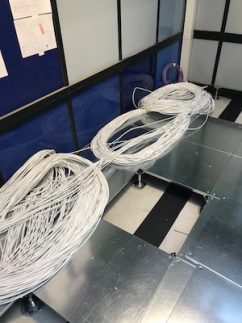 Was for space is to be used as knowledge Hub and library for all Trust staff who would like it to be accessible twenty-four hours a day through card access.
There is to be space for two permanent library staff to oversee the use of the space during the day – but it will not be manned during the silent hours.
There is to be space for a 'one to one' meeting area with a screen for privacy.
There is to be provision for some lockable storage for the library staff's personal items, for books and iPads to be put away night.
The main provision will be kiosks to take computers/lap tops.
There is to be space for a self-service/checkout station for borrowing books.
It is to be noted that the existing ventilation limits the maximum occupancy to sixteen people and the ventilation only operates for twelve hours a day during weekdays.
Is now in full use by the hospital staff and has been a wonderful environment to enhance working conditions.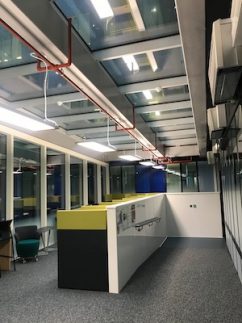 Peter Jinks
Email: peter.jinks@timesconstruction.com
Tel: (44) 07956 288874
Fay Thomas
Email: fay.thomas@timesconstruction.com
Tel: (44) 07709 400288
Jon Baron
Email: jon.baron@timesconstruction.com
(44) 07988900877